Details
Althea Says: Who would have thought that blotting oil off your face could feel so glamorous? Too Cool For School's Dinoplatz Dear Brachiosaurus Oil Paper to the Sponge is an innovative, upgraded version of your conventional blotting methods, using a sponge with an adhesive to comfortably remove any excess oil from your face throughout the day. Made with 100% natural hanji (traditional Korean mulberry paper), these papers are soft and gentle on the skin and come in a sturdy case that ensures the papers don't get dirty or creased in your bag. We love that this comes with a mirror as well for touch ups!
Size: 50 sheets, 58g
Type: All skin types
Color: -
How To Use: Pop open the cushion and pick up product. Use the sponge to pick up a piece of oil-blotting paper with the adhesive provided. Then lightly blot onto oily parts of the face. Peel off and discard the used blotting paper, using a new one every time. To renew adhesiveness of the sponge, peel off the used layer to reveal a new sticky layer underneath and continue use.ct with the puff provided, then blend onto the skin for desired coverage.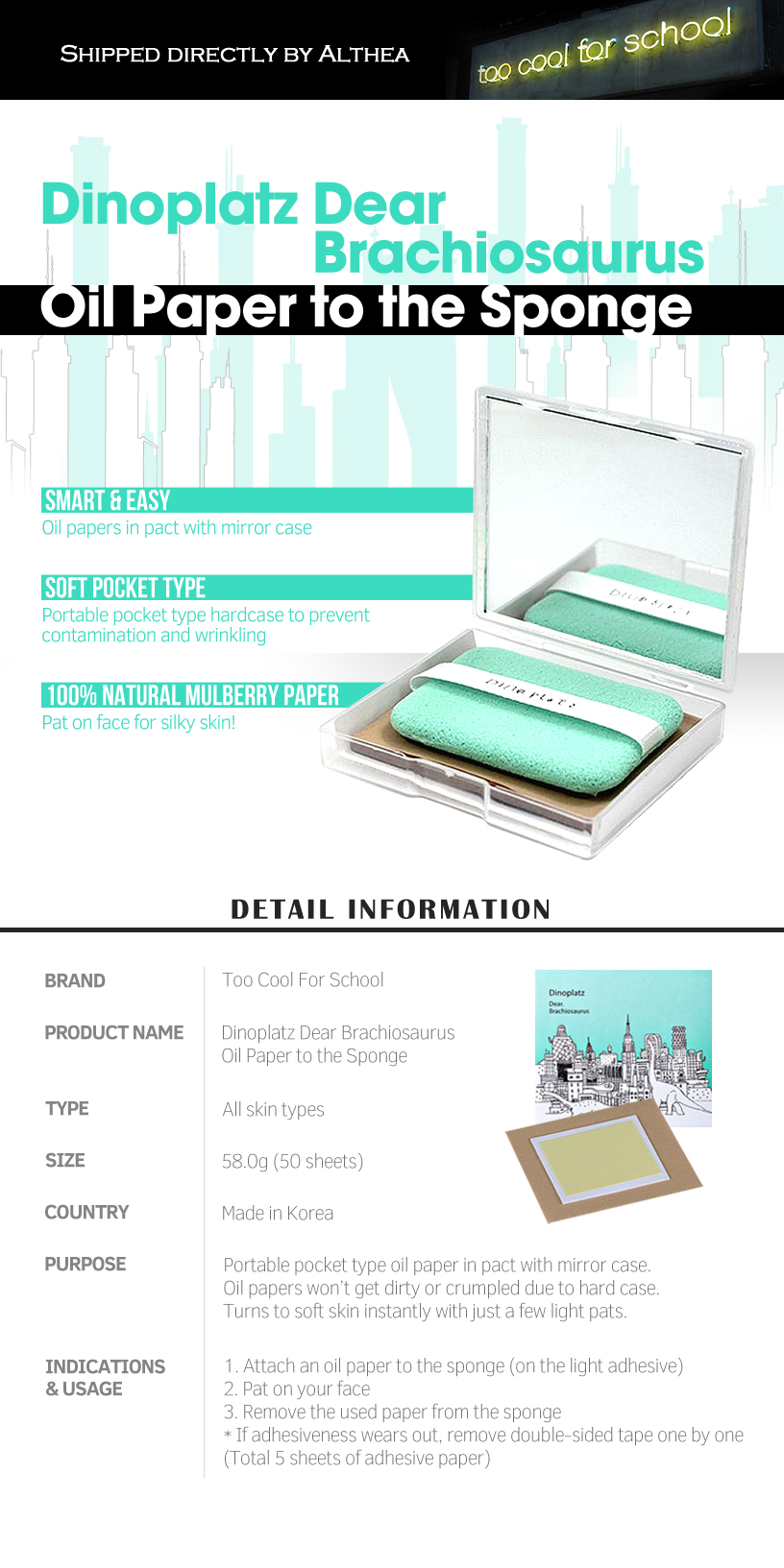 POLICY & NOTICE
ALTHEA GUARANTEES
1. We guarantee the authenticity of the product that you are purchasing. If you feel as though the product is not genuine, or if you just don't like it, please return it. We guarantee a market-leading 30 day unconditional return policy!
2. Not only is the product genuine, but we make sure everything provided is the latest from Korea. We don't keep our inventory in local warehouses. Why should we? Do you like fresh fruit or canned fruit? See? We carry the freshest inventory with the latest Korean trends, and ship them directly from Korea to you! And to top it all off, free shipping...Whoa!
3. Althea makes sure you are getting all your products at the best available market price. We guarantee it! In the slim chance, we messed up, just let us know, and we will fix all that!
RETURN POLICY
Althea makes sure to put an extra umph and a sprinkle of class on our customer service. If in any circumstance, you are in any way dissatisfied with our product, let us know, and we will give you 30 whole days to return it and even pay for your return shipping fees.
For a more complete, detailed guide to our return policy, please look at our Terms and Conditions page.
CUSTOMER SERVICE
Always let us know how to improve our service. We are all ears! If there was anything you were not content with, please do let us know and we will rectify the situation ASAP! For a more complete, detailed guide to our Customer Service, please look at our Terms and Conditions page.
PRODUCT DESCRIPTIONS
Althea attempts to be as accurate as possible. However, Althea does not warrant that product descriptions or other content of this site is accurate, complete, reliable, current, or error-free. If a product offered by Althea itself is not as described, your sole remedy is to return it in unused condition.
For a more complete, detailed guide to our service, please look at our Terms and Conditions page.
Related Products
There are no products matching the selection.