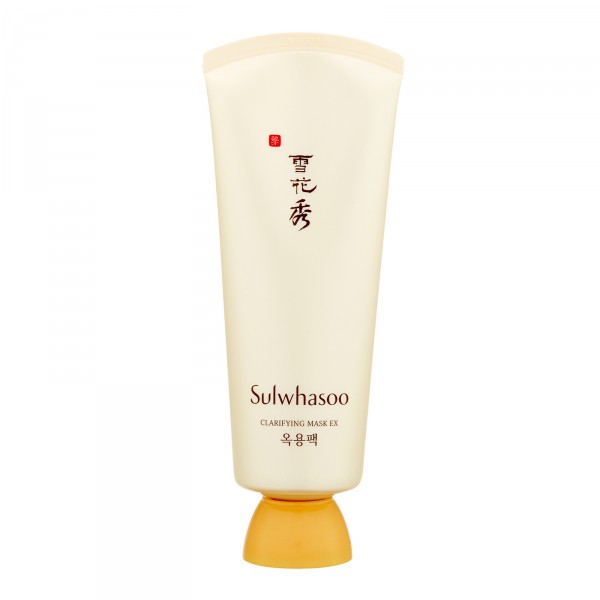 Details
Althea Says: Clear out your pores the natural way with Sulwhasoo's Clarifying Mask EX, a nutrient rich clarifying mask made with herbal ingredients such as jade, honey, and gold. These luxurious components work to refresh the skin, improving vitality while working to combat aging signs and removing dead skin cells, ensuring that your skin stays youthful and supple. Plus, we love the natural fragrance of Korean red pine and lavender that relaxes the senses too. Mask and chill, anyone?
Size: 150ml
Type: All skin types
Color: -
How To Use: Apply to clean skin avoiding the eye and lip areas, and leave on for about 30 minutes till it dries and solidifies completely. Peel off from top to bottom after.
Point:
1. Chinese medicine will present nourishing, moisturizing and vitality
- Made of okjuk, honey, gold/silver components that will present clear skin.
2. Peel off type pack
- Stickiness of the pack will take off dead skin cells and other wastes from the skin.
3. Natural scent
- Natural Korean red pine and lavender scent brings relaxation.
Purpose: A mask pack that gives clean, smooth skin with Chinese Medicine ingredients.
Indications and Usage:
Take adequate amount and apply on face except eye and lip parts.

After 2-30 minutes, once the pack is dried, peel off from top to bottom.
Size: 150ml
Ingredients:
Tepid Water, Polyvinvl alchohol, Alcohol, Glycerin, Butylene Glycol, Okjuk Extract, PEG-75, Ginseng Extract, Glycyrrhiza Glabra (Licorice) Root Extract, Paeonia Albiflora Root Extract, Nelumbo Nucifera Flower Extract, Lilium Candidum Bulb Extract, Foxglove Extract, Honey, Lonicera Japonica (Honeysuckle) Flower Extract, Portulaca Oleracea Extract, Xanthan Gum, Bentonite, Ammonium Acryloyldimethyltaurate/VP Copolymer, Ethylhexylglycerin, PEG-60 Hydrogenated Castor Oil, Disodium EDTA, Fragrance
POLICY & NOTICE
ALTHEA GUARANTEES
1. We guarantee the authenticity of the product that you are purchasing. If you feel as though the product is not genuine, or if you just don't like it, please return it. We guarantee a market-leading 30 day unconditional return policy!
2. Not only is the product genuine, but we make sure everything provided is the latest from Korea. We don't keep our inventory in local warehouses. Why should we? Do you like fresh fruit or canned fruit? See? We carry the freshest inventory with the latest Korean trends, and ship them directly from Korea to you! And to top it all off, free shipping...Whoa!
3. Althea makes sure you are getting all your products at the best available market price. We guarantee it! In the slim chance, we messed up, just let us know, and we will fix all that!
RETURN POLICY
Althea makes sure to put an extra umph and a sprinkle of class on our customer service. If in any circumstance, you are in any way dissatisfied with our product, let us know, and we will give you 30 whole days to return it and even pay for your return shipping fees.
For a more complete, detailed guide to our return policy, please look at our Terms and Conditions page.
CUSTOMER SERVICE
Always let us know how to improve our service. We are all ears! If there was anything you were not content with, please do let us know and we will rectify the situation ASAP! For a more complete, detailed guide to our Customer Service, please look at our Terms and Conditions page.
PRODUCT DESCRIPTIONS
Althea attempts to be as accurate as possible. However, Althea does not warrant that product descriptions or other content of this site is accurate, complete, reliable, current, or error-free. If a product offered by Althea itself is not as described, your sole remedy is to return it in unused condition.
For a more complete, detailed guide to our service, please look at our Terms and Conditions page.
Related Products
There are no products matching the selection.