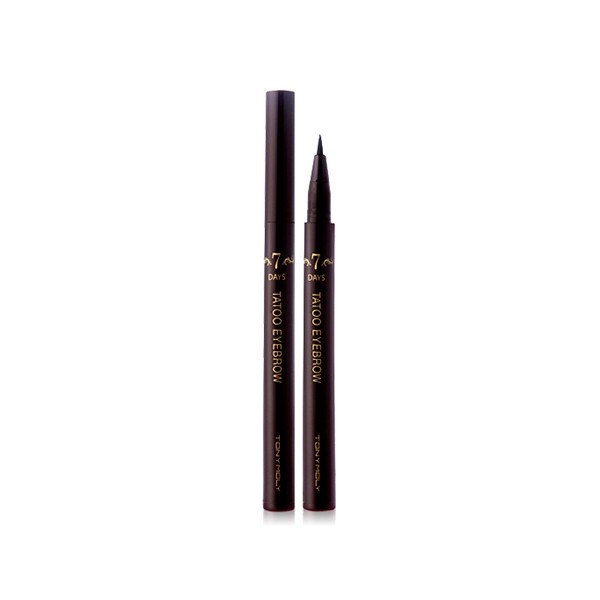 Details
Althea Says: Brows really do frame a face, but sometimes keeping them on or drawing them in every day requires a lot more effort than we're willing to give. Tony Moly's 7 Days Tattoo Eyebrow is a unique formula that adheres to the skin, tinting it for brows that last up to 7 days. Made with natural plant ingredients, this product is suitable for all skin types and brow shapes. Now you can leave the house fuss-free, brows done. Saying that you "woke up like this" has never been so easy!
Size: 0.8ml
Type: All skin types
Options: Dark Brown
How To Use: On clean brows, drawn on according to your brow shape and allow to dry. For best results, ensure that the area doesn't touch water or sweat for at least 6 hours.
Point:
1. Peculiar Dual Lenses Coating
- Ionic pigments and volatile polymer dual lenses coating tightly attaches to the skin which lasts for 3-7 minutes even after swimming or shower.

2. Mild Eyebrow Makeup with Natural-plant ingredients
- Does not cover your skin with the pigment; naturally fits to your eye makeup

3. Safe and convenient Usage
- Dyed on your keratin layer, brow cannot be washed by your sweat or water but cleanses out on natural skin turn over, therefore safe and used conveniently.
Purpose: Be safe and vivid of 7 days, and more; could be forever
Indications and Usage: Draw your favored eyebrow according to your brow line.
Purified water, dihydroxyacetone, ethanol, dipropylene glycol, methylglucose-20, propylene glycol, carbon black, sodium citrate, PEG-60 Hydrogenated Castor Oil, Sunset Yellow (Yellow 6), Butylene Glycol, Citric Acid, Phenoxyethanol, Black bean extract, iris extract, green tea extract, Acid Red 33 (Red 33), Oles-7, Disodium EDTA, Methylparaben, Butylparaben, Ethylparaben, Isobutyl paraben, Propylparaben, Blue No. 1, Polysorbate 60, Rosemary leaf extract, Sashou extract
POLICY & NOTICE
ALTHEA GUARANTEES
1. We guarantee the authenticity of the product that you are purchasing. If you feel as though the product is not genuine, or if you just don't like it, please return it. We guarantee a market-leading 30 day unconditional return policy!
2. Not only is the product genuine, but we make sure everything provided is the latest from Korea. We don't keep our inventory in local warehouses. Why should we? Do you like fresh fruit or canned fruit? See? We carry the freshest inventory with the latest Korean trends, and ship them directly from Korea to you! And to top it all off, free shipping...Whoa!
3. Althea makes sure you are getting all your products at the best available market price. We guarantee it! In the slim chance, we messed up, just let us know, and we will fix all that!
RETURN POLICY
Althea makes sure to put an extra umph and a sprinkle of class on our customer service. If in any circumstance, you are in any way dissatisfied with our product, let us know, and we will give you 30 whole days to return it and even pay for your return shipping fees.
For a more complete, detailed guide to our return policy, please look at our Terms and Conditions page.
CUSTOMER SERVICE
Always let us know how to improve our service. We are all ears! If there was anything you were not content with, please do let us know and we will rectify the situation ASAP! For a more complete, detailed guide to our Customer Service, please look at our Terms and Conditions page.
PRODUCT DESCRIPTIONS
Althea attempts to be as accurate as possible. However, Althea does not warrant that product descriptions or other content of this site is accurate, complete, reliable, current, or error-free. If a product offered by Althea itself is not as described, your sole remedy is to return it in unused condition.
For a more complete, detailed guide to our service, please look at our Terms and Conditions page.